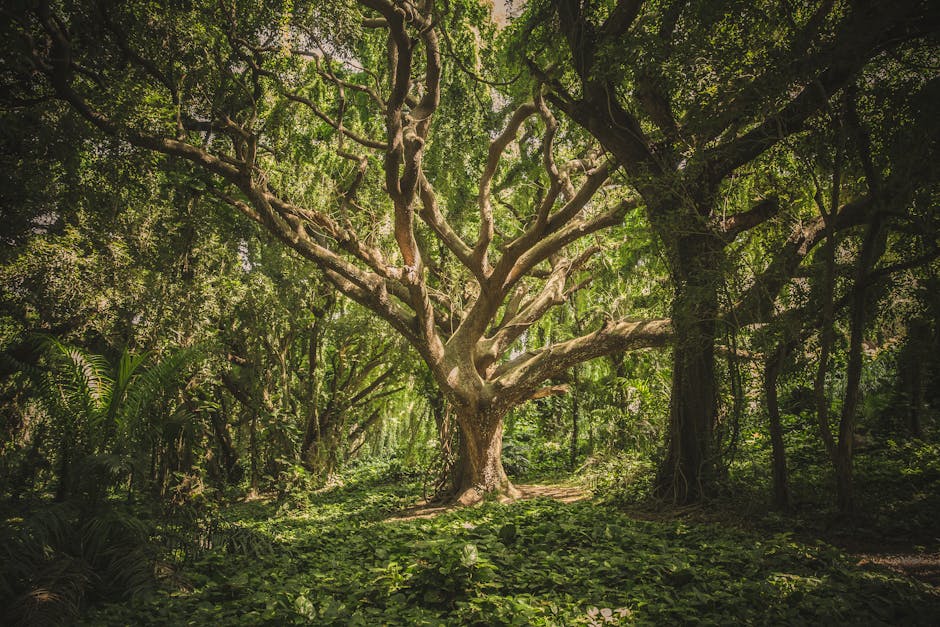 "Us sing and dance, make faces and give flower bouquets, trying to be loved.  You ever notice that trees do everything to git attention we do, except walk?"  ~Alice Walker, The Color Purple
Thick rim lenses magnify Mary's eyes to alien size but crossed, each one stuck to its own stubborn tear duct. Mary tells the same stories she has told over and over again since I can remember, which always gave me plenty excuse to stare at her affliction.  I can't figure out how it is that ugly-old-Mary could manage to drive the Blue and Gray Highway from Fredericksburg to our house in Virginia where the breakfast nook parquet floor pattern was all but invisible to her.  I know this to be fact because whenever Aunt Mary cackled near the end of her favorite retelling-that day barefooted Memaw and Willie Pearl, prim and pinafored like proper little southern girls, climb a split rail fence and hop on a spit-tempered sway-back plow horse that don't move no matter how hard you kick him-I always looked down at the floor before Mary finished her good laugh and tried to get me to talk, asking that question, "What in the world are you looking at child?"
I see the pattern even now, but never understood exactly how parquet basket weave fits together.  And I never got too far counting the number of wood tiles in that room without landing on Mary's black tie-up shoes slipped off, the knee-high stockings fallen around lumpy ankles, looped above gnarled black edge toenails wiggling through those nylon holes just outside her open shoes' dry gag-that's where I always ended up getting lost and having to start counting floor tiles over again.  So I never figured out the answer to Mary's question and couldn't have spoken it out loud in any case.
All the Lee women had in common a hatred of shoes and a craving for cigarette chat, which maybe explained why I never could abide showstopper myself, and definitely became the reason I stored a wad of bubble gum on the arch of my right foot when I went to bed each night or when I went down to the river to fish or sneaked away to wherever I might find time alone since chewing gum was hard to come by and I found it a safe guard against being expected to talk or smoke.  If I kept the gum anywhere else, there was always the chance someone might take it and throw it away.  Once I accumulated a huge glob from several weeks' little league games.  The kids with parents only wanted the baseball cards and tossed the paper and gum to the trash barrel, the dugout dust, or the first base-line fence. That's
where I stood to wait for gum and to watch my brother's friend Jackie Nichols pitch.
Jackie was a beautiful starling-haired boy who collected baseball cards but chewed the tobacco Michael pocketed for him in the 7-11.  Whenever Jackie bent down to tighten his cleats, the blue stripes over his thigh muscles stretched into wide waves.  The last time I saw Jackie, he selected as always two heavy bats instead of one to warm up his swing. Jackie tossed aside his packet of unwanted gum and watched me reach through the fence. He always hit a homerun and always cracked the bat and Jackie had never struck out before that day, so I said afterwards it was just more bad luck, the wild pitch he threw that struck directly where I leaned my forehad against the fence. He was the first boy I ever loved, and I cried when I wasn't allowed to go to the baseball field again. Two weeks later Jackie shot his mama point blank and a couple years after that I heard he got himself beat to death in Pawtuxent.  Everyone said it was a damn shame.  He was the best pitcher we ever had.  But nobody, not even Aunt Mary who knew everything about anybody, ever found out what happened to Michael.
But I can't talk about that yet.  I was thinking about shoes when the storm began that flooded the basement with four feet of sewage, tipping over and soaking the contents of a very few boxes that stored what we found left for us two addresses ago at that house on the lake where John and his sister loaded up trucks filled with everything from beds to silverware and clothes, all of which they sold at the Avon flea market the day I took the kids to their yearly physical and called a friend from the Henrietta WalMart after the engine in our van blew up and we climbed the rock erosion wall from the highway up to the shopping center lot.
As the storm set in, I carried the oldest box upstairs for safekeeping.  Inside I found stray black and white photos I remembered snatching up from the basement floor of the lake house.  No one smiles for the camera.  Mary and Mama with new permanent waved hair, red painted nails on my mother's hand swirled around a glass held up for a cheers at Bettie's Christmas Eve party.  A girl dressed in a flannel nightgown, her hair wrapped into bobby pin-curls tight against her scalp. Two boys:  one crouched low, wearing a catcher's mask, chest and knee pads, holding out a mitt, and the other standing next to him, double bats perched across the back of his neck with his arms dangled over the bat ends.  There's a beagle puppy asleep in a blanket.  Michael named the puppy Happy.  I remember the day Michael stood next to me stiff-backed against a cinder block wall, watching our Master Sergeant father beat the puppy silent with the butt of his sniper rifle.  That day at the lake house, on the picture window sill, I sorted and set out the photos and pairs-sizes zero to six boy and girl swaddling, walking and t-ball shoes.  I guess no one thought the contents of this left behind box to be worth anything.
So I should have seen this last storm coming.   It was far too warm to be October.  One week before I brought up the box on the night that heaviest snow in a century would fall on trees still in leaf, I sat braked at a green light and watched through my windshield as a woman wearing a quilted winter jacket over a white slip stopped traffic, darted between cars, stumbled at the curb, and ran bloody-kneed back and forth across the Albright-Knox Art Museum lawn.  I pulled over and got out of the car.  When I reached her she had fallen hard on a walkway but her legs were still moving. "They won't let me stop," she said, trying to catch hold of either the mismatched yellow golash or the fake fur boot. The forearm she lifted bent awkward, broken at its center.  Wide uniform shoulders pushed in front of me, rolled the woman on her side and clipped her wrists together with what looked like a plastic trash bag tie.  The officer didn't seem to notice the fractured arm.  Police lights colored the woman's bleach-orange hair and black roots into dark and light shades of flashing blue and the woman started to wail in a pitch akin to the cry of an infant, so I walked quietly to my car and drove home to make dinner, either tuna fish or egg salad sandwiches.  I couldn't decide.  She looked an awful lot like my mother.
Then there were those empty desert boots.  I had saved just enough money that
week to buy a decent pair of shoes.   The ones I wore were at least four years old and the
right shoe had holes not just on the sole but wearing through the toe, which didn't bother me at all but embarrassed my son.  Store after store window inside the shopping mall I couldn't spot any shoes I might like and my daughter wasn't there to tie them even if I could find a pair.  I never was good at that, and usually settled for knots.  For a while I stood outside a boutique window filled with fancy high heels hooked into a net strung with starfish and glass prisms that hung sparkled and zirconia clear like the wedding shoes mama left in the back of her closet.  After an hour or so, I made my way back to the escalator that led to the entrance marked on the mall map pamphlet I tucked into my back pocket when I arrived.  The desert boots stood alone at the top of the escalator, well worn and unlaced but neatly placed together just to the left of where people step off.  I sat down on a concrete bench and tried to reason why no one else stopped or even gave the boots a second glance.  Michael wore his boots with such pride.  I wondered if on the night Michael gave up asking for help from the Tampa V.A. hospital, he had placed his own Desert Storm pair neatly aside the same way these boots rested at ease, before he pillowed his head on a cement curb on that street somewhere in Florida along the early morning postal route.  I don't know where they buried the body.
I understand now that the snow sneaked up on us but the trees I'm sure were not
surprised.  When the power went off, we stepped outside bundled in our two blankets apiece.  Limbs cracked and fell, drumming asphalt block to block.  Some branches arrowed shrubs and windows.  The ones that began life as sibling saplings and had grown together through two world wars into gigantic oaks-split apart, their weight yanking telephone wire and cable loose or altogether torn from the poles.  The sky lit sudden neon gas and electric blue.  Two houses down, street transformers blew glass sparks into stars.  We stood unmoving.  They are old enough now, I thought, looking to each side and up at the beautiful profiles silhouetted on white-out wind, each one of my children grown to a height that measured at least a head taller than me.
Some time in the night the oldest tree on Garrison Road sent spears through the roof above where we slept by the fire, right through the sound.  In the morning we found our house starkly cold and our street a shipwreck.  I borrowed a neighbor's phone.  Most of the people here are elderly so we dug them out first and cleared away what trees we could lift and carry to the boulevard.  It was a good thing I did not buy shoes but I knew we were in more trouble than that small amount of money could fix, and I suffered a terrible ache when I came inside to sit by the fireplace my son lit and I peeled away wet socks to find my feet lifeless pale.  I remembered the memorial for my mother when Aunt Mary told me that one story I had never heard before.
She confessed that Christmas was a bad day for her ever since before she and
mama were old enough to go to bible school, where there was always soup.  Memaw made their Sunday dresses from flour sacks stitched together in diamond patches Mary thought looked pretty until she got glasses from preacher.  One December, Memaw had set aside enough coins to buy a baby doll with wooden feet and hands and head, its hair eyes and lips painted on.  It was meant for the six sisters to share, maybe to help acquaint them with the idea of another new baby, since they were all a bit older by then and the last three in line were called to be angels just after they were born.  A month before Christmas, Willie Pearl sent a letter and newspaper clip of their mother in a silk lined coffin.  Memaw was never welcome home even for her own mother's funeral ever since she had married one of them Cherokee Joneses.  Mary said Memaw showed her the old woman picture and told her you know when something is dead if it has that newspaper color skin. On Christmas Eve, Mary sneaked into the bed between Memaw and Papaw so she could touch the new baby.  He was cold.  Mary's crying woke Memaw, who quietly stripped the new doll and put its white dress on the infant while Papaw went out to the shed to saw floorboards into a box he nailed together.  They wrote his name in script with a brush dipped in navy blue porch paint-Ezekial-Mary finally remembered, on the inside of the lid. That was the last story Aunt Mary ever told me.  She calls sometimes, but I never pick up the phone.  I can't say why, exactly.  But mostly, I don't think she has a right to call.  Aunt Mary wasn't blind.  She could see far off things better than most.  Michael was rough and heavy.  Mary could have done something on one of her Sunday visits all those years ago.  She must have known.  There is always a choice within whatever befalls.
When my feet warmed up past numb, I knew we were trapped in our own house, and it was several days before help arrived.  The Red Cross finally answered my call from the borrowed phone, delivering emergency food and supplies door to door.  I was glad to hear they helped some people clear trees and tarp roofs.  They probably skipped my house because there was no way clear from the road to the door and the kids were not looking out but sleeping, exhausted from helping the day before.  I was dumping water from the last box dragged up the basement stairs when I saw the disaster relief truck move away from the end of our street.  I had never heard a siren like that.  I sat down on the box and the cardboard collapsed into water and muck atop three feet of snow.
All around me trees silently began planning either death or amputated persistence.
Few remained whole.  I suppose there are parts of ourselves we must give up in order to make room for the young, embracing loss with whatever is left of our reach, refusing to pass down what is already half pest and half fungi eaten.  Maybe that unwanted wisdom turned my own mama into a flat broken thing short-sheeted on a detox ward bed.  First cold and pale, then ashes inside an urn I never laid eyes on since I couldn't go to her funeral.
Mama and Michael, wherever they are, would have made better angels.
They never have to count or wear shoes or break.  They don't have to wade through basement sewage or pretend they are not hungry.
Angels don't have to choose.
Eliza Kelley teaches Poetry, Fiction, Memoir, Nature Writing, American Indian Literatures, Human Rights Discourse and American Minority Literature at Buffalo State College in New York. Her work has appeared in literary magazines and anthologies such as Common Sense 2, Absinthe Literary Review, Facets, Literary Potpourri, Antietam Review, Square Lake, Pedestal Magazine, "The Kali Guide," Icarus International, "The Anthology of New England Writers," and "Red White and Blues: Poetic Vistas on the Promise of America."